Often, when you prepare a document or an image for your website, you name it so that you can find it in your files, or with a file name that makes sense to your internal team to help identify it.
However, quite often a file name can end up being shown to users - in quite prominent ways. So it's always important to consider that, and name it something suitable.
I've seen a company embarrassed a few years ago by an animation of a person being called, in the file name, a term that referred to the ethnicity of that character. Nothing actually offensive, but the fact that ethnicity was in that file name at all kinda highlighted the deliberate diversity intent behind the image.
I recently booked tickets for a zoo farm and the online experience was great. I wrote last week about the overall UX of booking online and visiting somewhere in the real world and so I'll see when we visit this week if the online experience matches the reality, but so far so good.
One thing that did make me chuckle however, was the map I was advised to download. I was very impressed that they suggested printing a map before arriving as they won't be handing them out at the moment, due to COVID-19. And the links to download the map were on the screen and in my confirmation email - which also means I didn't need to print it, I could just save paper and look at it on my phone whilst I'm there. However - the file name for the map was "covid map.pdf". Which kinda sounds a little like it was a map of where to find or avoid COVID-19! Perhaps a more suitable name would be Summer2020.pdf (it's also generally best not to include spaces in file names for files that will go online) or something that doesn't scream about a term that people may not like to be reminded of - even though internally the team know this map was put together especially for this trying time.
It probably didn't seem like something anyone would see - but unfortunately, as it's a PDF rather than an image - iPhones specifically do show the file name pretty blatantly! And then when you open it from your saved documents you see the name again.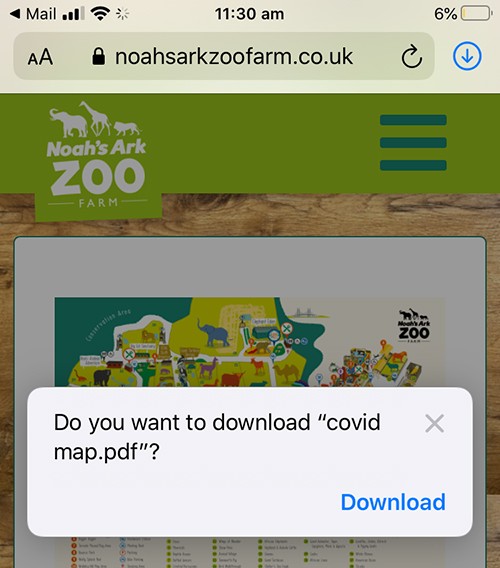 This really isn't a big deal in this case, but it is something to be aware of - just like you want to keep your text and content professional, always keep your file names as customer facing as you would the image itself.