If at some point in your life you've created a Flickr account (who hasn't?) then you probably got an email yesterday informing you that they've been bought by SmugMug.
Flickr was started in 2004 and aquired by Yahoo a year later for around $25,000,000. The Guardian cite that by 2011 they were hosting 6 billion photos and had 87,000,000 users by 2013. But then Yahoo apparently started to neglect the site - it got a resurgence under Marissa Mayer's care in 2012 - but depsite it's popularity and use it hasn't been nurtured.
Verizon bought Yahoo in 2016 for $4.8billion and people thought that was probably the end of Flickr, as Verizon went about selling off bits and pieces and cutting costs. However, then SmugMug stepped up to the table.
SmugMug meanwhile was founded in 2002 - 2 years before Flickr - by father and son team Chris and Don MacAskill. They haven't had the meteoric rise to fame - today their Twitter followers stand at 54,600 whilst Flickr have a rather more impressive 1,230,000 - but they've obviously been chugging away quite happily in the background.
SmugMug's meta description describes it as "your all-in-one solution", "[w]hether you want a photo website that sells prints, secure client galleries or just need unlimited storage".
At the moment the plan is apparently that Flickr will carry on being Flickr - in brand and front end, but the back end will be moved to SmugMug's tech... that can't be a small task. And will also be partly why we all got emails yesterday (yey! GDPR).
This move to SmugMug's back end infrastructure might be related to a boast on their home page that they've got the "most secure cloud storage out there", along with "a decade-plus legacy for safeguarding our customers' photos". It's a nice home page actually - you should check it out - I expect they had it redone in time for their big news! And it's a nice touch that Flickr and SmugMug are sharing the same hero at the moment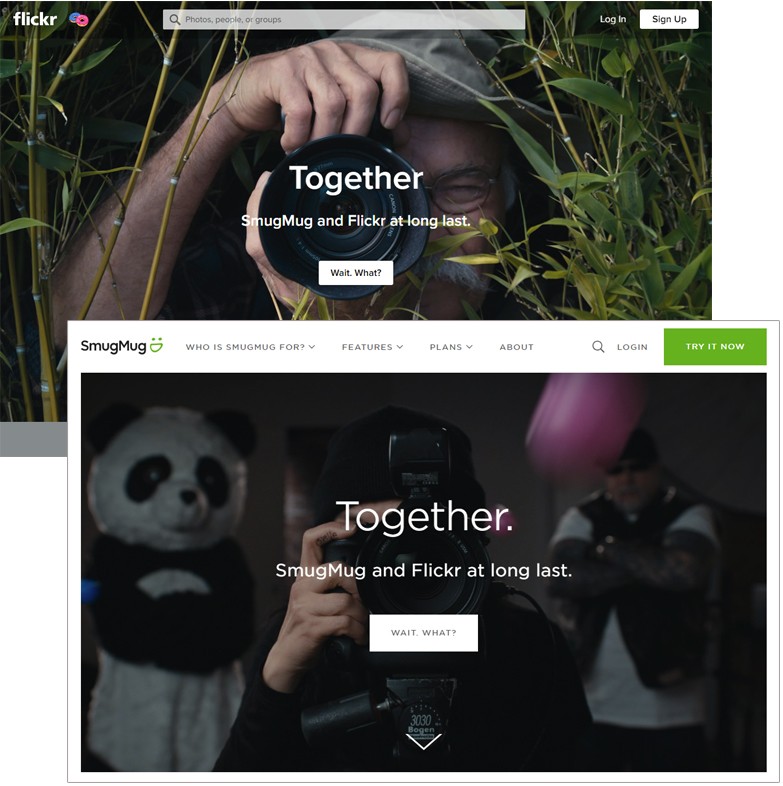 So the hope is that now Flickr is in the hands of a company that care about online photos, it'll have a future, and that staple of the Internet with it's 2 little pretty dots will be around for years to come.